15 HOLLAND HILL
LUXURIOUS FREEHOLD DEVELOPMENT
GET DEVELOPER DISCOUNTS
15 HOLLAND HILL Latest Updates
Last Updated: 

17th June 2021
Get Developer Prices and Discounts
3/6/2021: Book an Appointment to View 15 Holland Hill Showflat and gets Direct Developer Price + Discounts!!
04/02/2023: 91% Of Units Got Sold!! Click Here For More Info
09/09/2022: Almost 88% of units got Sold!! Click Here For More Info
05/08/2022: All 3 Br units Got sold!! Only 2Br + Study Units Available!! Click Here For More Info
30/04/2022: Get 3% Discount Applicable for all Units
03/03/2022: Enjoy Huge Discounts Upto 3%
02/02/2022: #04-03 Sold!
15 Holland Hill is a new freehold residential development that occupies the former Olina Lodge, located at a hilltop enclave plot of land in prime District 10. The condominium is developed by Peak Opal Pte Ltd, a subsidiary of Kheng Leong Group, a property development and real estate investment company which has a proven track record for developing retail projects and residential houses in Singapore. The company has a growing portfolio of developments in key cities across the Asia Pacific region. 15 Holland Hill is expected to be completed in December 2022 with 59 units sprawling across 3 towers of 12 storeys.
| | |
| --- | --- |
| Project Name | 15 Holland Hill |
| Appx Site Area | 84,289 sq ft |
| Address | 15 Holland Hill Singapore |
| Developer | Peak Opal (unit of Kheng Leong) |
| Tenure | Freehold |
| District | 10 |
| No. Of Units | 59 |
| TOP | est. May 2024 |
15 Holland Hill Singapore is being developed by Peak Opal, a unit of the Kheng Leong Group. Kheng Leong has a proven track record for developing homes known for quality and value. Besides being a forerunner in the development of cluster houses in Singapore, Kheng Leong has chalked up a portfolio of both residential and retail developments.
Among the many residences built by the Group are Nassim Park Residences, 72 Grange Road, The Ansley, Principal Gardens, One North Residences, Sutton Place, Domain 21, The Minton, Tudor Ten, and The Woods (cluster houses). As well as the elegantly beautiful MeyerHouse at Meyer Road.
The 15 Holland Hill condo site is a roughly quarter-circular plot of land accessed from the top of Holland Hill road. On its west it faces the open landscaping at the centre of Parvis @ Holland V. Which puts it at quite a distance from the residential blocks there. To its south and south-east, are grouped three other condos – Lush, Holland Peak, and Kintyre Park. These surrounding condos are either 5 or 12 storeys high. In general, it is not a densely built up neighbourhood. So the 15 Holland Hill site enjoys quite an open feel, especially for upper floor units that could get views all the way to the Dempsey and Botanic Gardens area, and to the city skyline.
Arrival Pavilion
Garden Concierge
Gym
Secret Garden
Swimming Pool
Pool Pavilion
Children's Playground
Yoga Pavilion
The Vale
The Knolls
The Blooms
Clubhouse
Guardhouse
Holland Village MRT Station
Farrer Road MRT Station
Commonwealth MRT Station
Holland Village
Empress Market on Farrer Road
Dempsey Hill
Commonwealth Crescent Food Centre
Cold Storage Holland Village
Sheng Siong Hypermarket (Tanglin Halt)
NTUC Fairprice (Bouna Vista CC)
Nanyang Primary School
ACS (Int'l) Singapore
Global Tots Preschool – Holland
No. of Rooms
Unit Type
Sqm
Sqft
No. of Units
Stack
Price Min.
Price Max.
2 Bedroom + Study
2BR+S
120
1,292
8
05
$3,919,770
$4,039,080
3 Bedroom
3BR-a
167
1,798
8
04
SOLD
SOLD
3BR-b
173
1,862
7
02
SOLD
SOLD
3BR-b1
173
1,862
1
02
SOLD
SOLD
3BR-c
190
2,045
8
01
SOLD
SOLD
4 Bedroom
4BR-a
232
2,497
8
06
SOLD
SOLD
4BR-a1
232
2,497
1
06
SOLD
SOLD
4BR-b
214
2,303
8
03
SOLD
SOLD
Maisonette
M1
470
5,059
1
06
SOLD
SOLD
M2
485
5,221
1
03
SOLD
SOLD
M3
421
4,532
1
02
SOLD
SOLD
Penthouse
P1
477
5,134
1
05
SOLD
SOLD
P2
504
5,425
1
03
SOLD
SOLD
P3
462
4,973
1
01
SOLD
SOLD
P4
381
4,101
1
03
SOLD
SOLD
P5
363
3,907
1
01
SOLD
SOLD
(All prices for 15 Holland Hill displayed here are for NPS and are for reference purposes. Prices are subject to change from time to time without prior notice. This webpage cannot be held responsible for any inaccuracies, omissions and/or dispute.)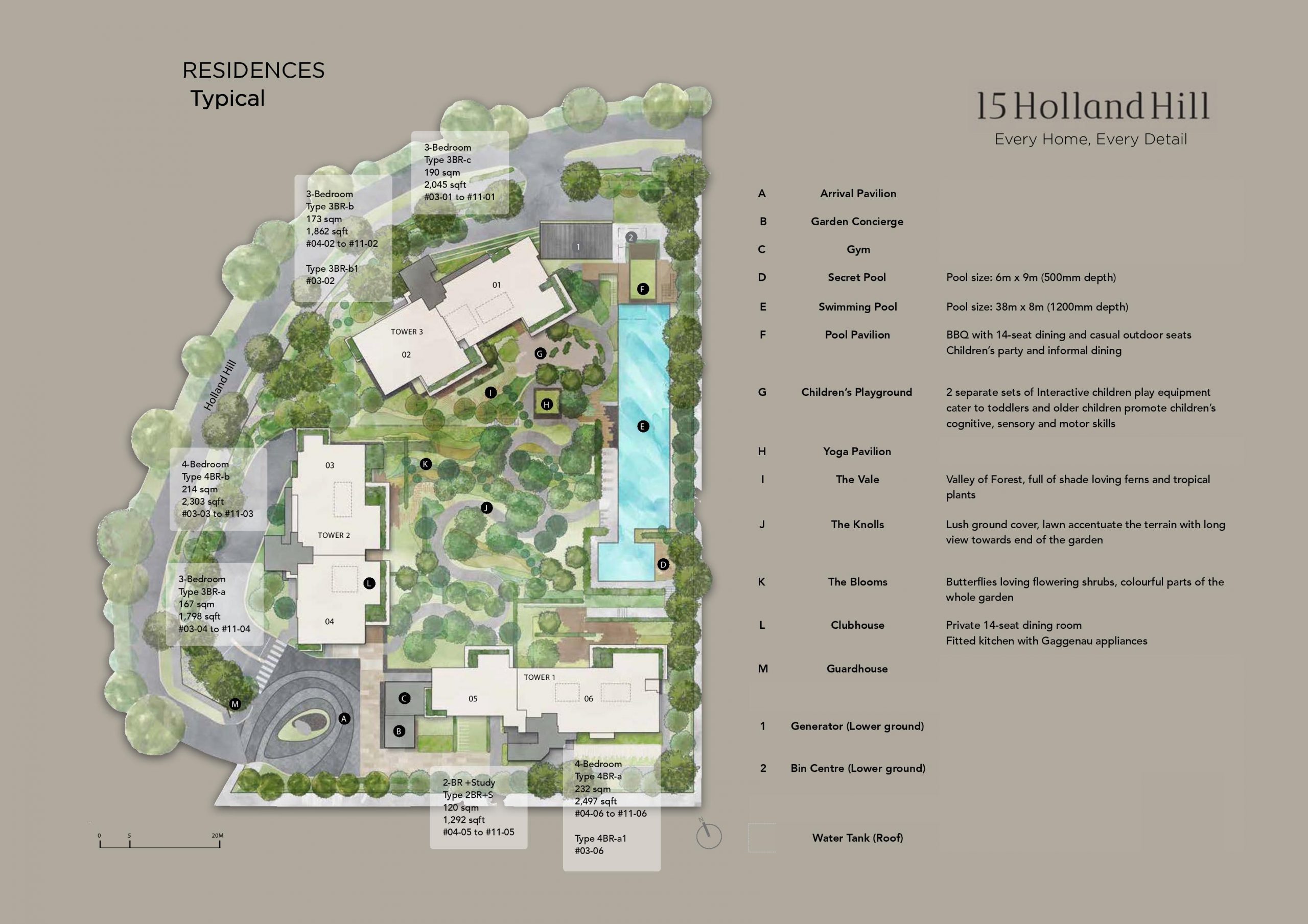 Book Appointment to View Showflat and Get Direct Developer Price
OR 
For any enquiries please call our  Developer Appointed Sales Team +65 67707757. While engaging with the Official Developer Appointed Sales Team you would be offered the best price. You need not pay any commission too.